Another custom built trailer for our Outsize & Aerospace division
Wallenborn takes delivery of a customised trailer with powered rollerbed equipped with a Hydraroll system and hydraulic lifting mechanism.
Luxembourg, 25.06.2019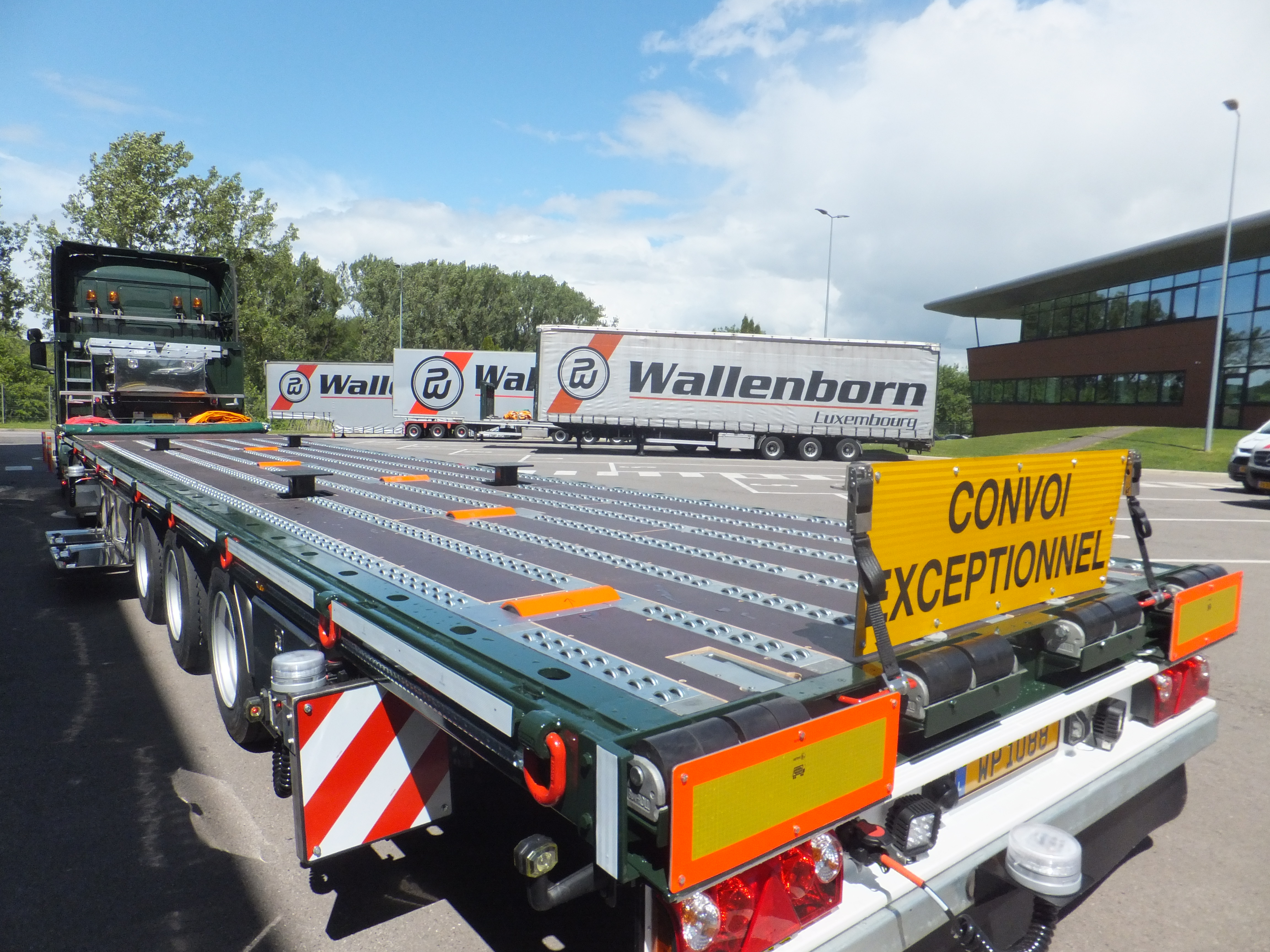 In September last year Wallenborn's Outsize & Aerospace department took delivery of its first custom made trailer - a trailer considered a mega flatbed engine carrier equipped with a Hydraroll powered rollerbed and winch, enabling us to transport any kind of aircraft engine requiring loading/offloading with a powered rollerbed (Trent Engine Series). Only a handful of European transport providers can offer this service.
This month we add a second custom built trailer to the Outsize fleet. The new trailer is essentially a replica of the first, yet differentiates itself with a hydraulic lifting mechanism. This new mechanism allows us to lift GEnx engines (powering Boeing 747-8 and Boeing Dreamliner 787) in order to install shock mounts for safer road transportation. The engine is transferred directly from the aircraft via high-loader (Boeing 777F or 747F) or by an internal crane system (Antonov) to the trailer, where shock-mounts are attached before road transport begins.
This new capability gives us the ability to handle GEnx engines in "full roll-over-condition", even at airports that are not equipped with heavy forklift machinery. The capacity of the hydraulic lifting system is 36 tonnes.
The trailer is also equipped with 6 powered cargo roller (PCR) units which, together with the winch provide more than enough strength and ability to safely move even the heaviest of engines. The PCR units are located in the center of the trailer floor, situated in all three sections of the floor, and 2 pneumatic palletstops are also positioned at the rear of the trailer for maximum security.
Wallenborn has fixed transport licenses for the world's largest aircraft engines in Belgium, France, Luxembourg, Netherlands, Sweden, Denmark, Norway, Spain, Portugal and specific routes in Germany and Great Britain. We have developed our own "Engine Handling Procedures" for each engine type and also maintain a record of all shipments through the "Engine Check Lists". Further services and capabilities include:
Dedicated engine / XXL team with 24/7 coverage
Customised, multi-lingual training program for AC engine transports
Wallenborn supervision provided at all major cargo airports
Dedicated engine carrier fleet on which larger engines can also be transported as "secured cargo" in order to maintain a high security status
Certified strapping equipment on all engine carriers (5 ton & 10 ton straps) and chains where needed
To learn more about our Outsize services please click here. To speak to someone about our outsize transportation services, please email your request to BIG@wallenborn.com or call our Luxembourg office at +352 26 341 1. To view the picture gallery of our new trailer click here.