Belgium on the rise
Wallenborn continues its growth in Belgium as cargo volumes increase 21.5% year-on-year in Liege.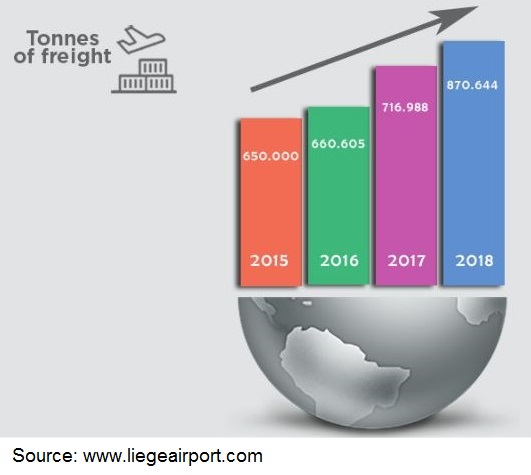 Luxembourg, 05.03.2019
According to Liege Airport, the leading cargo airport in Belgium, 2018 was another year of substantial growth. Following 2017, already a record year with 717,000 tonnes of goods, 2018 has closed with a total of 870,644 tonnes transported, a 21.5% increase!
No doubt this growth is set to continue following last year's announcement in which the Belgian Government and e-commerce giant Alibaba announced their decision to develop a trade platform in Belgium with logistics infrastructure to be developed at Liege Airport. The agreement will see Belgium and Alibaba promote inclusive trade under the Electronic World Trade Platform (eWTP) initiative, which is designed to help foster electronic trade through public-private partnerships.
These developments present great opportunity for Wallenborn. 2018 alone showed 34% growth in Belgium for the company, with demand ever increasing from existing customers as well as new ones.
Our local team has now grown to 6 office staff members and 7 fixed drivers. 4 trucks and 1 van are now also permanently registered in Belgium. This means we have double driver teams from 07h00 - 19h00 and from 19h00 - 07h00 to have the most efficient coverage 6 days a week.
A reliable team and a solid network is the key to success and flexibility. To ensure customer satisfaction it is essential to have a good national service and pre-loading system in place to be able to react quickly to all demands and operational issues.
Outsize, perishable and pharmaceutical cargo transport are growing sectors for us in Belgium. To learn more about the specific services we offer in each of those areas visit the Outsize and Temperature controlled sections of our website.
To view some more images of our BE fleet click here.
To learn more about how we can support you in Belgium, please contact Donald Schaap and his team on + 32 4 235 81 50 or LGG.request@wallenborn.com.