Wallenborn's Jason Breakwell to speak at Nordic Air Cargo Symposium 2017
The Nordic Air Cargo Symposium is the only regional event focusing on the North European air cargo market, bringing together cargo operators, forwarders, integrators, shippers, airlines, airports, investors, entrepreneurs, suppliers and many more.
Luxembourg, 20.03.2017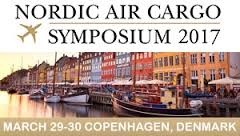 The Nordic Air Cargo Symposium has been established as the premium air cargo event where shippers and major industry players meet to learn and network.
The Nordic Air Cargo Symposium will be held in Denmark for the first time since 2004. New session themes will focus on the impact of e-commerce for the traditional transportation industry, logistics infrastructure and latest trends in pharma logistics.
The Symposium language is English.
On 30th March, the keynote address will be given by Raimund Paetzmann, former Head of EU Operations & Real Estate, Amazon Europe, now Cosmopolitan Explorer and address the latest trends in the global transportation industry, in particular understanding the needs for the E-Commerce boom.
The keynote will be followed by Jason Breakwell, Wallenborn's Commercial Director partaking in a panel to discuss the future outlook of air logistics and the Supply Chain. Co-panelists include Claus Schroeder, Global Transportation Manager Air & Ocean at Metso; Ufuk Sumerler, Sr. Vice President Air Logistics Western Europe at Kuehne + Nagel; and John Batten, Interim Europe CEO at WFS.
The conference will further address topics such as the impact of E-Commerce and how that will affect the Air Cargo industry; how to enhance quality in the Air Cargo product in northern Europe; the demand, supply & quality of pharma logistics; airport Infrastructure and the positioning for freighters; the new Silk Road to China; and the outlook of the salmon & seafood market.
It promises to be a day of interesting topics and fruitful conversations.
For more detailed information about the Nordic Air Cargo Symposium click here, and for the program details click here.
If you are planning to be at the event and would like to arrange a meeting with Jason, please email LUX.request@wallenborn.com. We look forward to seeing you there!