Doing Business in Europe
China Southern Airlines landed in Europe in 1996 with its first passenger flight to Amsterdam and one of its first decisions was to partner with Wallenborn to maximize its cargo revenue opportunities by offering customers a fast and reliable transport network covering the European market.
Luxembourg, 01.07.2014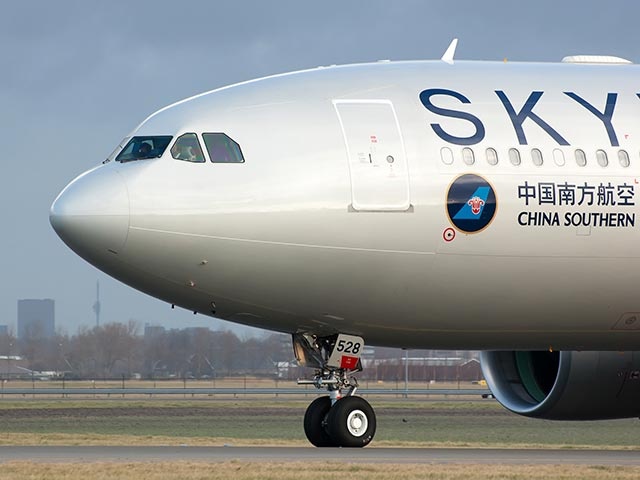 Mr. Yhang Deyhi, Vice President of China Southern Cargo, says choosing the right partners to work with in Europe is essential if airlines are to realise the full potential of the market and its 500 million consumers. "The most important requirements for China-based customers are to have efficient, secure and cost effective Road Feeder Services (RFS). These have played a vital role in our development in the European market because we rely on each other to deliver. Without RFS, we could neither reach multiple destinations throughout Europe nor provide value-added services such as Built Up Pallets (BUP) and Direct Delivery Services (DDS). Having efficient road transport operations also means we can offer tailor-made services to our customers."
Europe and the U.S. are China Southern Cargo's most important international markets and are both served with maindeck cargo capacity. The balanced international trade flow between China-Europe-China makes the EU a particularly attractive cargo market. Today, the airline's gateways in Europe are Amsterdam, Frankfurt, London, Paris and Vienna, and its continued network growth is based on the high level of customer trust it has gained in the European market.
Air China Cargo is also a major user of Wallenborn's Road Feeder Services in Europe to connect with its freighter and passenger flights serving 10 cities on the continent. Europe generates some 52% of the airline's total tonnage and as Mr. Ray Lo, the airline's Vice President – Service & Operations, says "Our European trucking network is definitely very important to us, especially the inbound trucks. Customers like to have choices to suit their own requirements, for instance standby cargo with a cheaper rate for less urgent shipments or the ability to arrange a direct delivery service or an exclusive truck for urgent cargoes."
Both airlines recognize the challenges that can arise from doing business in Europe. "We have to be fully aware of the language problem and communication gap between Chinese customers and their counterparts in Europe. Therefore, they rely strongly on airlines to take good care of their cargo whatever the shipment status is and to address any customs problems. This is especially true for small and medium-sized forwarders in China when they are sending cargo to Europe", Ray Lo says.
Air China Cargo, he adds, is working hard to help customers in China understand the potential of the market in Europe and the choices available to them.
Mr. Bian Zuhua, CEO of Yangtze River Airlines, says Europe has been an important market for the airline ever since it commenced operations in 2002, alongside China's domestic market and intra-Asia and transpacific routes. "Europe has become the most stable market and has the highest transportation, which occupies an important position in the company's strategic development. Nowadays, on the basis of our services to AMS, HHN and LUX, Yangtze River Express can cover Europe, supported by qualified truck companies as well as a variety of charter flights. Yangtze River Express has the ability to satisfy the main needs of customers: large airline network coverage, more segmented pricing policy, more efficient transfer speed, safer cargo transportation and a more timely and more transparent cargo-tracking service."
China Southern Cargo's Mr. Zhang Dezhi, Vice President Cargo adds: "With the growing buying power of the global forwarders, customers are becoming more and more demanding. They require large network coverage, tailor-made service, time definite delivery, cost effective pricing and transparent information. China Southern Cargo is trying our best to be on track with these customer dynamics to reach their expectations."
He say airlines also need a resilient Road Feeder Services and transport partner in Europe given the high rates of cargo crime, with organized crime gangs targeting high value products being moved by road across Europe. As a long-term member of the Transported Asset Protection Association (TAPA) in the Europe, Middle East and Africa region, Wallenborn's own high security services are underpinned by the supply chain's most respected security standards.
He also highlights the importance of operational and communication alignment between ground handling agents and RFS operators to facilitate the most efficient air-truck transfers and to deal with any irregularities that occur in the shipping process.
"Being one of the major RFS players in the European market, Wallenborn is a reputable trucking company that has the experience, expertise and strength to support China Southern as the airline grows stronger", Zhang Dezhi said confidently.
Bian Zuhua of Yangtze River Airlines agrees. He said: "Nowadays, customers not only want a broader range of airline coverage but also more timely transshipment, higher transportation safety, more personalized products and services, and higher quality cargo-tracking services. Road Feeder Services in Europe play a significant role within the range of airline coverage, diversified service of DDX/BUP and more transparent cargo-tracking service. We appointed Wallenborn as one of our important strategic partners in Europe when we started our PVG-AMS route in 2013. As one of the well-known RFS companies in Europe, Wallenborn has shown its powerful transfer ability and trusted service quality to us, which makes us believe that we can satisfy our customers better with the help of Wallenborn. We hope we can both further develop our market competitiveness and make more strategic progress through our cooperation."