Secure
Every day, Europe exports hundreds of millions of euros worth of goods and imports hundreds of millions more. This makes the European Union a dynamic place to do business but it is also an increasingly challenging market for any company without a resilient supply chain security strategy.
According to the Transported Asset Protection Association's (TAPA) Incident Information Service (IIS) 565 number of new cargo crimes recorded by TAPA's IIS in March 2023. Biggest recorded loss in month: - €5,680,000 - Cargo thieves stole cash from an Authorised 3rd Part Facility in Slough, UK, on 29 March 2023. 24 - Number of major incidents with a loss of value over € 100k+. 7,3 % or 41 of the recorded incidents took place in Unclassified Parking locations. This is why it is so important to push for more secured parking areas and standards that are acceptable.
PSR has been established by TAPA's security professionals within the industry, to address secure parking of theft sensitive products which are transported over road. The PSR specifies the minimum acceptable security standard and the methods to be used in maintaining those standards. You can read more about PSR here.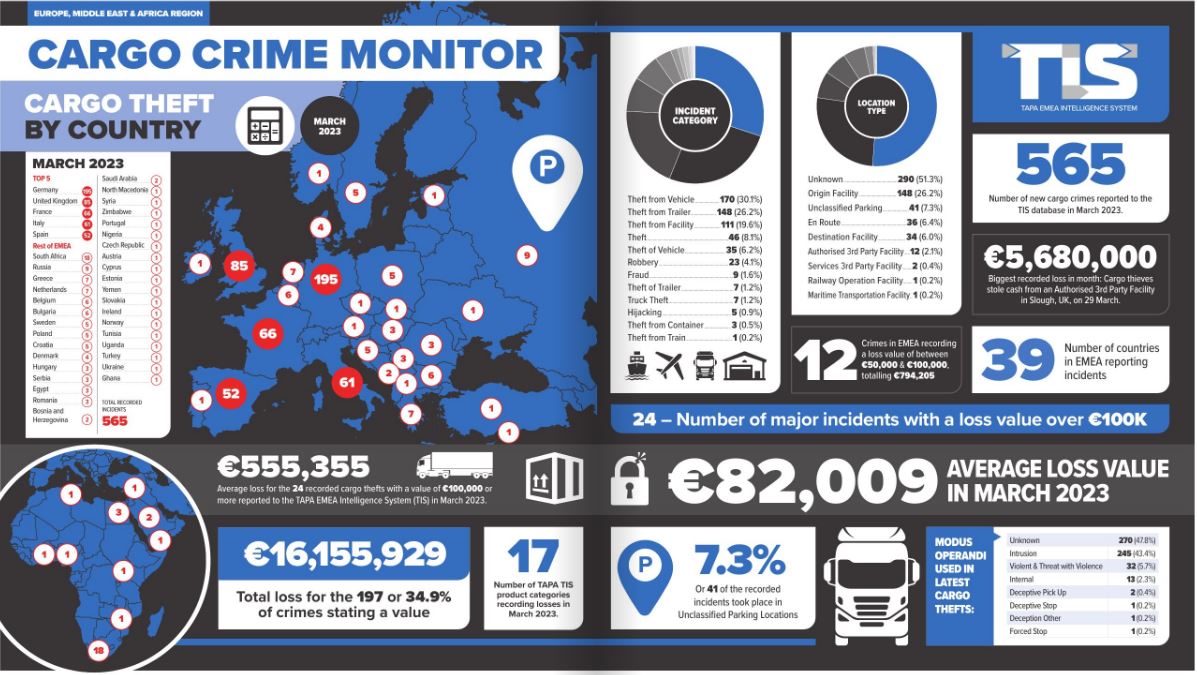 According to BSI's Global Supply Chain Intelligence report, numerous factors are influencing supply chain risks gloabally. These risks include security, social responsibility, and business continuity, many of which are provoked by one another.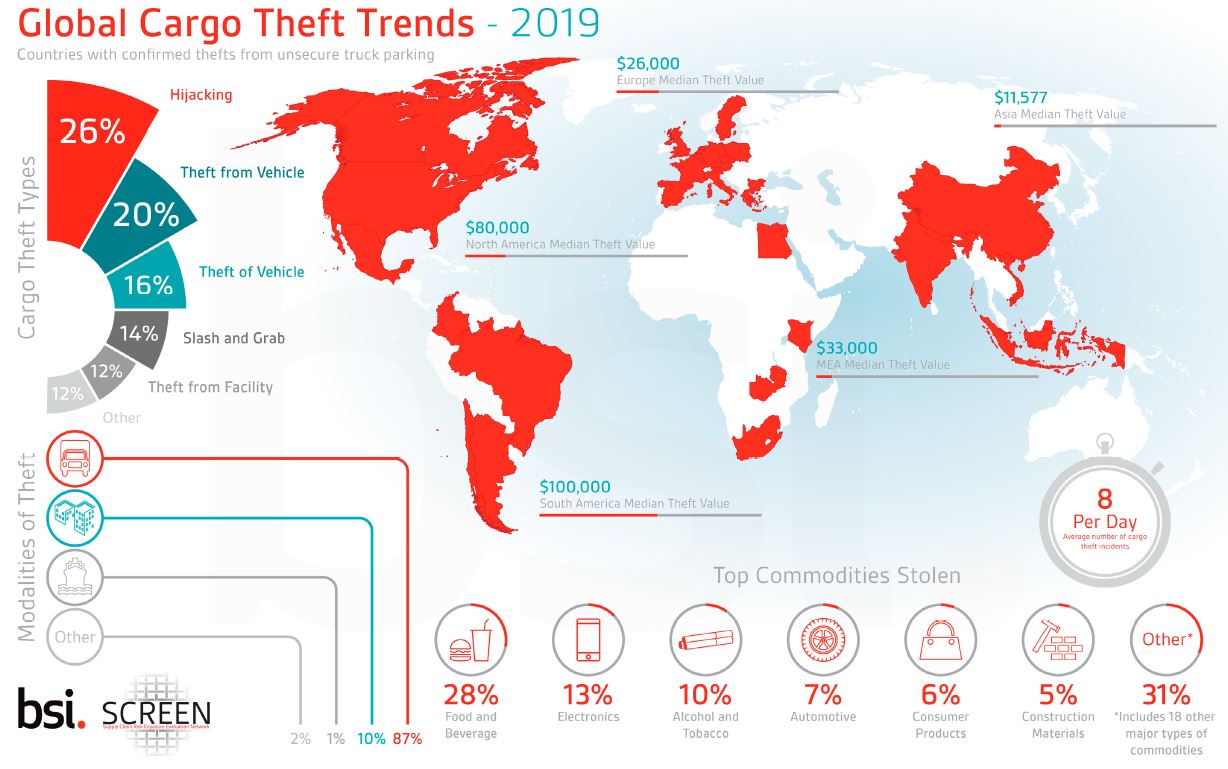 Source: BSI Supply Chain Risk Insights 2020
Wallenborn recognised the growing need for secured transport years ago and as such became an early mover in this field. Now with years of experience under our belt Wallenborn boasts a near perfect success rate when it comes to secured transportation. Safety, security, and reliability is what you can expect when trucking with Wallenborn, and securing, tracking, and delivering your goods safely and on time is our priority. Wallenborn is a regulated agent and we have been TAPA TSR certified since 2012. We were also the first asset-based company in the EMEA region to be certified at three levels – levels 1, 2 and 3. We are an Authorised Economic Operator (AEO) and an active member of the Transported Asset Protection Association (TAPA) since 2002. Wallenborn uses TAPAs industry benchmark security standards and cargo crime intelligence to underpin its secure offerings for shippers of highly valuable and vulnerable products.
Each year we successfully complete various statutory, ISO, internal and external audits. This means that our logistics services meet all quality requirements and regulations in the field of safety and security, staff training levels, orderliness and cleanliness, availability and strict adherence to standard operating procedures.
Our commitment to safety and security is amongst the best in the industry and includes:
100% fleet control: HVC (High Value Cargo) and HVTT (High Value Theft Transport) shipments using own security fleet
Professional team of drivers with comprehensive background checks
Background checks on all employees
Security training program for all employees
Hard-bodied, high security trucks
Pre-excursion alarms
Security locks and seals

Alert messaging & alarm systems
Pre-defined routes & secure parking
Two drivers when required
Escort vehicles when specified
24/7 Monitoring & Intervention
Satellite tracking technology
Geo-fencing locations and routes
Contingency planning
Whilst we strive for a 100% success rate, we are prepared for when things do go wrong. As such, we have obtained Grade AAA insurance which is also unsurpassed in the industry.
Our TSR1 trucks and trailers are of the highest standard and include the below security features. All security systems are connected to certified tracking, monitoring and an intervention coordination centre.
Truck:

Trailer:

GPS locator
GSM phone connected to monitoring centre
Silent panic buttons
Alarm connected to monitoring centre. Alarm in case tractor and trailer are separated.
GPS navigation system with geo/fencing functionality

Trailer ID in reflective figure of roof
GPS locator
Door sensors connected to monitoring centre
4 pneumatic door locks
Lock-down system
Reinforced trailer doors